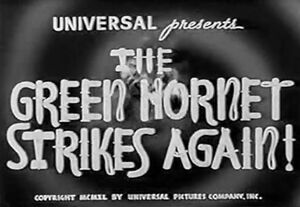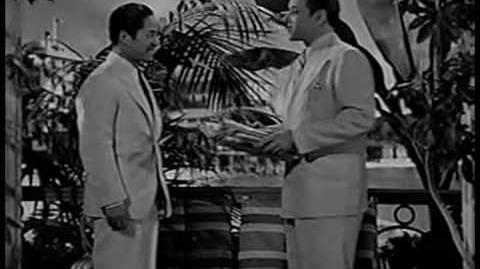 The Green Hornet Strikes Again! is a 1941 Universal movie serial based on The Green Hornet radio series by George W. Trendle and Fran Striker. It a sequel to the 1940 serial The Green Hornet. This was Universal's 117th serial (the 49th with sound) of the 137 the studio produced. The plot involves racketeering and is unusual for a film serial in having mostly stand alone episodes instead of a continuous story (although this was also the case for the original Green Hornet serial).
While Britt Reid is enjoying a vacation in Hawaii, Crogan, secret chief of the underworld, is running unchecked. Reid and Kato head back for the mainland on the S.S. Paradise, survive a maritime disaster, and soon are destroying Crogan's rackets one by one.
Flaming Havoc
The Plunge of Peril
The Avenging Heavens
A Night of Terror
Shattering Doom
The Fatal Flash
Death in the Clouds
Human Targets
The Tragic Crash
Blazing Fury
Thieves of the Night
Crashing Barriers
The Flaming Inferno
Racketeering Inferno
Smashing the Crime Ring
Ad blocker interference detected!
Wikia is a free-to-use site that makes money from advertising. We have a modified experience for viewers using ad blockers

Wikia is not accessible if you've made further modifications. Remove the custom ad blocker rule(s) and the page will load as expected.