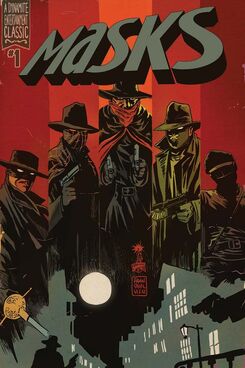 Masks (stylized MASKS) is a crossover comic book series by Dynamite Entertainment, written by Chris Roberson with art by Alex Ross. It features the Green Hornet and Kato, as well as the Shadow, the Spider and many other pulp heroes. The series has eight issues in total. Masks #1 was released on November 28, 2012.
The official description of the series from Dynamite reads:
"The crossover you've been waiting for! Before superheroes, there were Masks!
The Shadow, the Green Hornet, Kato, the Spider and more in a story that only Dynamite could tell! For the first time EVER, these masked vigilantes are joining together in one EPIC series! It's 1938, and the Justice Party has swept into office in New York State. But the newly-elected officials are in the control of powerful criminals, who quickly corrupt the law to their own advantage. When a fascist police state is instituted, the only ones who stand in defense of the innocent are masked vigilantes like the Shadow, the Green Hornet, Kato, and the Spider. As the confrontation builds, more masked heroes will join the fight including Black Bat, Miss Fury, Zorro, Black Terror, Green Lama and many more! When the law is unjust, justice must be an outlaw!" [1]
Development
Edit
Masks #1 - November 28, 2012

Masks #2 - December 19, 2012
Masks #3 - January 16, 2013
Masks #4 - February 20, 2013
Masks #5 - March 20, 2013
Masks #6 - April 17, 2013
Masks #7 - May 22, 2013
Masks #8 - June 26, 2013
↑

Masks #1 (Of 8) Product Description
References
Edit
Masks #1 (Of 8) Product Description: [[1]]
Ad blocker interference detected!
Wikia is a free-to-use site that makes money from advertising. We have a modified experience for viewers using ad blockers

Wikia is not accessible if you've made further modifications. Remove the custom ad blocker rule(s) and the page will load as expected.