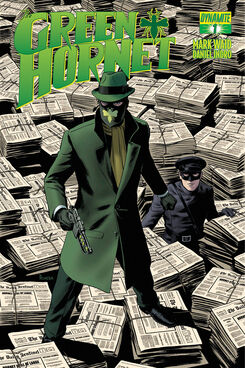 Mark Waid's The Green Hornet  is a comic book series from Dynamite that launched on March 27, 2013. The series is written by Mark Waid with covers by Paolo Rivera and art by Daniel Indro.[1]
The series focuses as much on Britt Reid the newspaper publisher as it does his alter ego, the superhero the Green Hornet. A powerful man both in his daily life and while fighting crime as the Green Hornet, Reid struggles with a ballooning ego, and Kato attempts to help him see that he is thinking unreasonably. When Reid goes too far, his arrogance leads to an innocent person paying the price.[2]
The Green Hornet #1 - March 27, 2013
The Green Hornet #2 - April 24, 2013
The Green Hornet #3 - May 29, 2013
The Green Hornet #4 - June 26, 2013
References
Edit
↑ Mark Waid's The Green Hornet #1 Product Page: http://dynamite.com/htmlfiles/viewProduct.html?PRO=C72513020289500111
↑ Mark Waid Explores the Grey Area of "Green Hornet": http://www.comicbookresources.com/?page=article&id=41801
Ad blocker interference detected!
Wikia is a free-to-use site that makes money from advertising. We have a modified experience for viewers using ad blockers

Wikia is not accessible if you've made further modifications. Remove the custom ad blocker rule(s) and the page will load as expected.