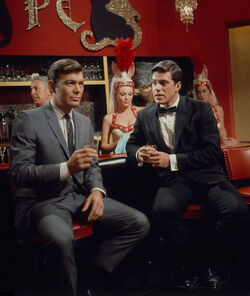 "Corpse of the Year Part 1" is the eighteenth episode of the television series The Green Hornet.  it is also the first of a two-part story.
A carbon copy of the Green Hornet's Black Beauty attacks a delivery trucks and terminates the man right in front of Britt Reid at the same time Reporter Mike has a visit from a Green Hornet impostor, which leads to the real Hornet attempting to go after these impostors.
Ad blocker interference detected!
Wikia is a free-to-use site that makes money from advertising. We have a modified experience for viewers using ad blockers

Wikia is not accessible if you've made further modifications. Remove the custom ad blocker rule(s) and the page will load as expected.