Radio Series (1936-1952)
Edit
Britt Reid is the son of Dan Reid Jr. and the grandnephew of John Reid, a.k.a. the Lone Ranger. He is the publisher of the Daily Sentinel by day and the masked "criminal"/secretly superhero the Green Hornet by night. He, and his Filipino/Japanese valet Kato, fought the criminal underworld from 1936 to 1952.
This version of Britt Reid was played by four different actors during the show's run: Al Hodge (1936-43,45), Donovan Faust (1943), Bob Hall (1945-47), and Jack McCarthy (1947-52).
Film Serials (1940-41)
Edit
This version of Britt Reid is almost exactly the same as his radio counterpart, except his sidekick Kato is of Korean desent. Britt, as the Green Hornet, battled the Leader, who organized a crime wave across the city, and crime lord Boss Crogan and his crime rackets.
Gordon Jones played Britt in the first serial, The Green Hornet, but Al Hodge, who was the current radio Hornet, was the voice whenever Britt became the Green Hornet.
Warren Hull played Britt Reid in the second serial, The Green Hornet Strikes Again!
TV Series (1966-67)
Edit
Britt Reid is the owner and publisher of The Daily Sentinel and the Green Hornet. He became the Hornet when his father was wrongfully imprisoned for a crime he did not commit and had later died in prison. His identity is known to Lenore Case, District Attorney Frank P. Scanlon and Kato, who aids him in his fight against the criminal underworld. He once traveled to Gotham City to stop Colonel Gumm from running a counterfeit stamp ring, but was interrupted by Batman and Robin, who mistook them for criminals. Britt and Kato went to back to Gotham to once again fight Gumm, now calling himself General Gumm and had teamed up with the Joker to stop Batman and Robin. The Green Hornet and Kato teamed up with the Dynamic Duo and stopped Gumm and the Joker.
This version was played by Van Williams during the show's one-season run.
This Britt Reid is part of the DC Comics "1966" universe, having teamed up with the 1966 Adam West Batman twice, once on television and once in a six-issue miniseries.
2011 Film
Edit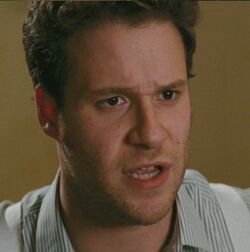 Britt Reid is the young publishing heir who uses the secret identity of the Green Hornet. When his widowed father James Reid dies, he is left in charge of the city's biggest newspaper company, whose "flag-paper" is called the Daily Sentinel. Lenore Case, his secretary, has already entered into an interpersonal relationship with him at the time of his father's death. Britt subsequently recruits a young man named Kato, whom he has befriended, as his partner in fighting crime. The car they use, called the Black Beauty, is armed with a veritable arsenal of technology.
This version was played by Seth Rogan in the 2011 film.