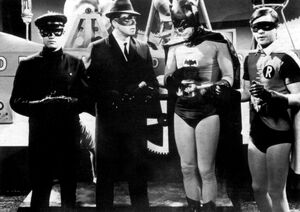 Batman was a television series based on the DC Comics character of the same name, that aired on TV from 1966 to 1968.
In its second season, the Green Hornet and Kato, from their own TV show, made guest appearances in three episodes. They first made a cameo in "The Spell of Tut", appearing in the window of a building that Batman and Robin are scaling. Batman and Green Hornet appear to know each other, and introduce their sidekicks to one another.
Later in the season, they appear in the two-parter "A Piece of the Action"/"Batman's Satisfaction" in a team-up and square-off. They are each tasked with taking down the criminal Colonel Gumm. Green Hornet and Kato's secret identities are also seen, and interact with Bruce Wayne and Dick Grayson. It is also mentioned that Britt Reid and Bruce Wayne have been acquaintances and rivals since childhood.
In an in-joke cameo on Batman, Bruce Wayne and Dick Grayson watch their favorite television show, The Green Hornet, while on The Green Hornet Britt Reid and Kato watch their favorite show, Batman.
Ad blocker interference detected!
Wikia is a free-to-use site that makes money from advertising. We have a modified experience for viewers using ad blockers

Wikia is not accessible if you've made further modifications. Remove the custom ad blocker rule(s) and the page will load as expected.